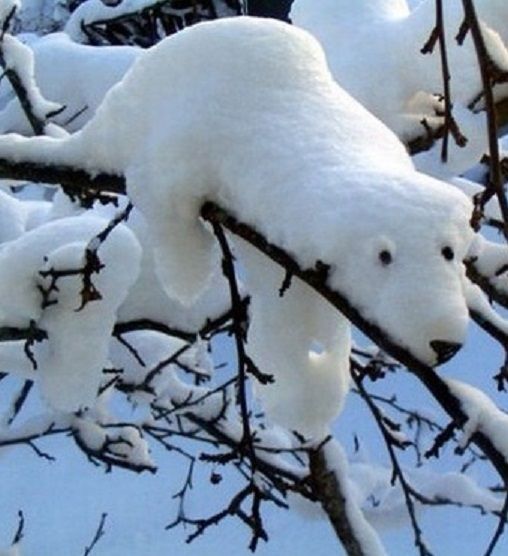 It is the time of the "ice moon" when numbed and frozen soil and biting cold, with wind chill numbers which are often prefaced by a minus sign!
Good News: at Holliday Park members are not shivering and quivering about high heating costs in this, the coldest winter in over 30 years. We're (hides grin) snug and comfortable because our co-operative practices the art of "Frugality" by making prudent economical decisions which keep energy costs as low as possible for the membership.
For example: rather than following traditional sourcing and having constantly higher gas bills using the standard methods provided by Consumers Energy consumption, the Board purchases bulk natural gas after analyzing and comparing the co-operatives usage and the costs for bulk natural gas which a number of reputable suppliers offer. Prices are calculated and then locked in at a specific fixed rate annually. The savings have been extraordinary. These costs are included in the moderate monthly carrying charges which have been increased only 3 times in the 35-plus year history of this fiscally sound, mortgage free community.
**The extreme cold that Michiganders' are experiencing will not drive costs higher for our members due to the savvy and calculated expenditure of stridently budgeted Energy Funding with this bulk gas- fixed cost-program.
For HP members February is often a great month to curl up and hibernate a bit like bears, staying warm and cozy, comforted by the knowledge that your co-op energy resource dollars are being stretched thanks to the very frugal corporate mind-set which is working just for you!
** Please note that a monthly carrying-charge is less than $300 (which includes heat and gas charges) at this middle-income cooperative. No government subsidy here—-but more affordable (and nicer!) than any place with a subsidy.

(as posted at our Facebook Page https://www.facebook.com/HollidayPark )
Unbelievable – that's what people say when you tell them your Holliday Park story. When doing a bit of traveling, because of our great Travel Club or when traveling on our own, if we engaged in conversations about our lifestyle here at Holliday Park, the reaction is one of disbelief. Once when a friend invited us to join them at their time-share, this is how it went.
Picture this. It was the common scene: man sitting on a bench outside a group of stores holding bags of "can't live without" treasures, looking bored. Another gentleman approaches and asks if he can share the seat.
Their dialogue begins. "Nice weather."
"Yes, it's always nice weather in San Diego. That's why we moved here. Where are you from?"
"Michigan. Weather like this we get maybe 6 or 7 days a year, if we're lucky."
"So what keeps you in Michigan?"
"Well, being born in Detroit and raised in Garden City…it was rural back then. I guess it's all I've ever known. I like this retirement though. My wife and I are experiencing California for the first time thanks to a good and generous friend with a time-share here."
"You think you'd ever consider living here in California?"
"Oh no, it's too expensive…way too expensive for us."
"So what does it cost you to live in Michigan?"
"Well I pay a $308 a month carrying charge in the Cooperative where I live just outside of metro Detroit."
"What the heck is a cooperative? Is it some kind of commune…like a hippy place with shared washing machines and vacuum cleaners?"
"No, no, no; a cooperative is a corporation where every member has one share, one vote in the everyday working of the system. First you buy out the vacating member. Might cost you anywhere from $23,000 for a 1 bedroom ranch to $44,000 for a 2 story, 3 bedroom if you need more room. Then you have a monthly carrying charge. For my two story, two bedroom, it's $308.00 a month. That covers the maintenance on the inside stuff, like your stove, refrigerator, furnace, garbage disposal, water heater. Also included in that are the property taxes, insurance on the structure., grass mowing and edging plus 2 things you probably never think about here – snow removal and the heating bill. Since I retired I've not had to repair leaks, unclog a drain, fix a faucet, or replace a garbage disposal – it's all taken care of. That's why I'm here, without a worry, spending my extra cash in your lovely town."
"There's something you're leaving out, something you're not telling me, the man said, What's the catch?"
 "I know it sounds like I'm leaving something out, but honest, I'm not. In the last 6 years we have had new roofs put on, new siding, new furnaces, additional attic insulation put in and there were no assessments like in a condo. We have a Board of Directors and they set aside funds until there is enough to cover the expense of the project. Pay as you go, they call it. Our next project will probably be window replacement. It's been awhile, plus they have made great improvements in windows. The carrying charges haven't varied more than a few dollars since I've moved in and that's due the varying price of the natural gas that the coop purchases for our heat."
"We've got a beautiful heated swimming pool – of course we can only use it from Memorial Day to Labor Day but that's OK. Living there allows many members to escape Michigan winters and have a place in Florida or Arizona. Snowbirds, we call 'em."
"Oh, here comes my wife now. Hon, this guy thinks I'm pulling his leg. How much is our monthly carrying charge at Holliday Park?"
"It's 308.00 a month; why do you ask?"
The man looked at both of us and shook his head, muttering something about "old hippies – they must have smoked too much funny stuff. Unbelievable! Thanks, but I'm not buying it!!"
**  If you'd like to see the "real bricks and mortar"  amazing cooperative"…come to Greeter's at the Clubhouse on Saturday's from 11-1:00 p.m. (except for holidays).

Tags:
co-op lifestyle
,
constantly low carrying charges
,
cooperative facts
,
cooperative membership
,
economical living
,
financial frugality
,
frugal funding
,
good lifestyle
,
holliday park story
,
housing dollars
,
membership
,
one share
,
one vote
,
paying as you go
,
thrifty spending
,
Westland Michigan cooperative
,
wise spending
When looking for a place to call home, the savvy prospective buyer wants to choose a community that provides a safe environment with green spaces, good schools, arts and leisure programs, convenient shopping, and a strong city government that ensures the continued progress and solvency of every property in the area.
The residents of Westland, Michigan, have all of these amenities due largely to a strong mayoral city government which is solvent, and that implements many austerity programs to maintain their AA Bond rating. The Current Mayor, William Wild, oversees an Administrative Staff of 29, and 400 employees. He and his staff work with the City Council to keep the budget balanced, address the concerns and needs of the residents, while providing a great environment in which to thrive and be happy.
Currently, according to a recent Press Release, the Mayor, and City Council, in an effort to cut spending costs and reduce the carbon footprint of the city, had hired a recycling specialist to find ways to accomplish these tasks. Together, and with the input of the residents, through study sessions, a plan has evolved. This plan has come to be known as Westland's own "TRASH INTO CASH" plan which is a way of creating their own economic stimulus program, while borrowing nothing from anyone, but accomplishing many good things.
The residents of Westland have wanted to stop adding to landfills, and start becoming not only more environmentally friendly, but at the same time, earning a gratuity for their efforts. They called and petitioned the city to show their support for Single Stream Recycling in which the paper fiber items and containers are picked up together by the collection truck. Each resident gets a cart for their recyclables and it contains a micro-chip to track its weight at every pick up. The residents can earn up to an approximated annual credit of $240, per family, in coupons and gift cards, based on the weight of the combined recycling products that they have contributed. These coupons will be redeemed at local businesses.
This kind of brainstorming and forward thinking will not only infuse the city's economy with an estimated 5-6 million dollars from these earned credits, (based on an estimated 28,000 residents taking part in the program). It creates a climate for keeping our city's contributions to landfills lower, making for a healthier environment for everyone.
This is just one of many plans the City of Westland is putting in place to keep a balanced budget and provide the funds to maintain excellent City Services, great schools, cultural programs, sports and recreational facilities, and great resources for every age group from children to Senior Citizens. Holliday Park residents appreciate and enjoy all of these wonderful resources, which add greatly to the quality of their lives.
Recently lobbyists have been hired by the City, to help with the procurement of State and Federal Funds and Grants which will help Westland to maintain and improve its infrastructure for years to come. Using its share of the economic stimulus monies that the State of Michigan receives, wisely, and being very astute and strident in its planning and spending, Westland will maintain its balanced budget and continue to provide the kind of idyllic lifestyle that people here embrace as a vital part of their "happy and contented lifestyle".
Tags:
a great place to call home
,
AA bond rating
,
austerity programs
,
balanced budget
,
budget
,
buyer
,
cash
,
city
,
city council
,
city government
,
cleaner environment
,
costs
,
coupons
,
create a stimulus plan
,
credits
,
cut costs
,
cut spending
,
dollars
,
economic stimulus
,
economic stimulus plan
,
environment
,
great resources
,
happy and contented lifestyle
,
home
,
idyllic lifestyle
,
infuse the city economy with dollars
,
landfills
,
micro chip
,
micro chip cart
,
paper fiber items
,
press release
,
recyclables
,
recycle
,
reduce landfills
,
resources
,
savvy buyer
,
single stream recycling
,
spend less
,
stimulus money
,
strong city government
,
trash makes cash
,
weight
,
weight of recyclables
,
Westland's austerity program
,
Westland's great resources
,
wise spending