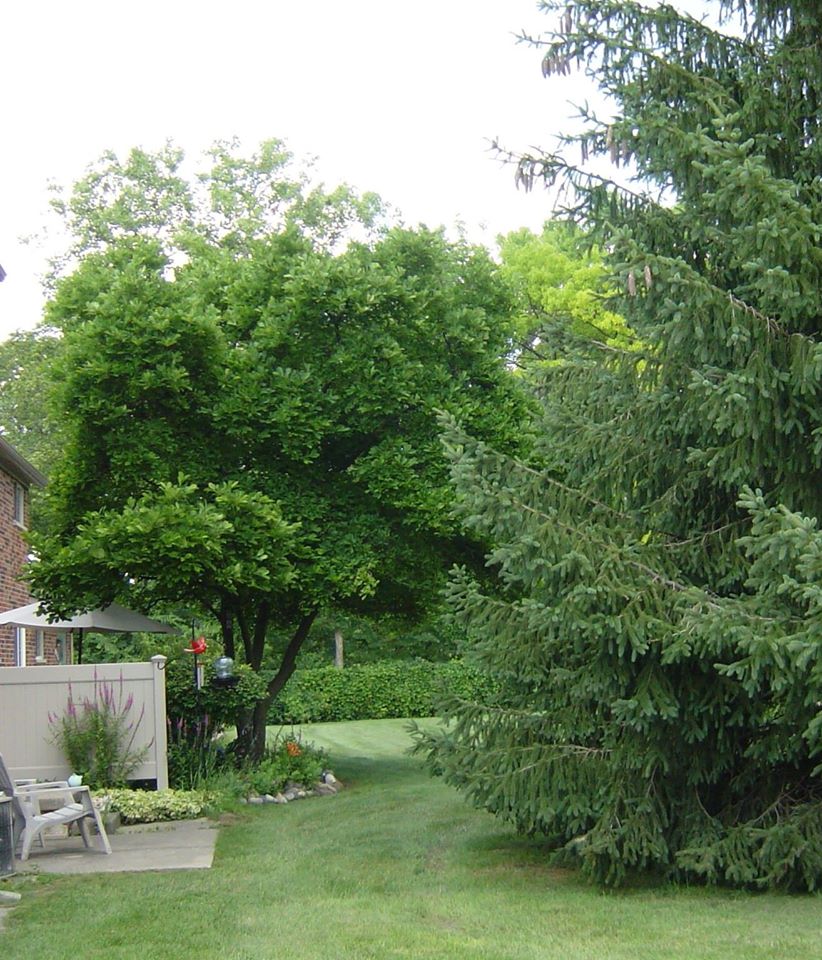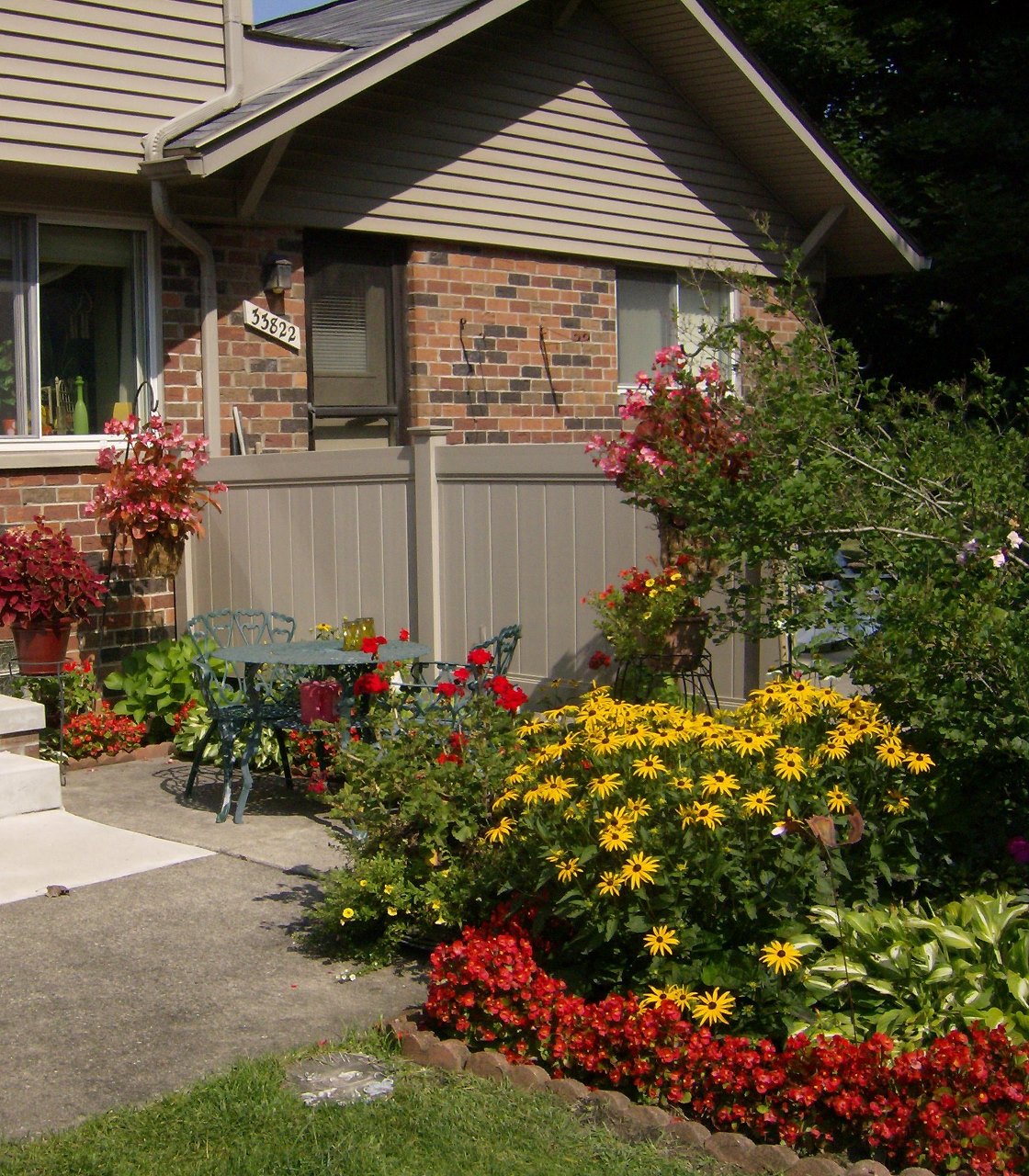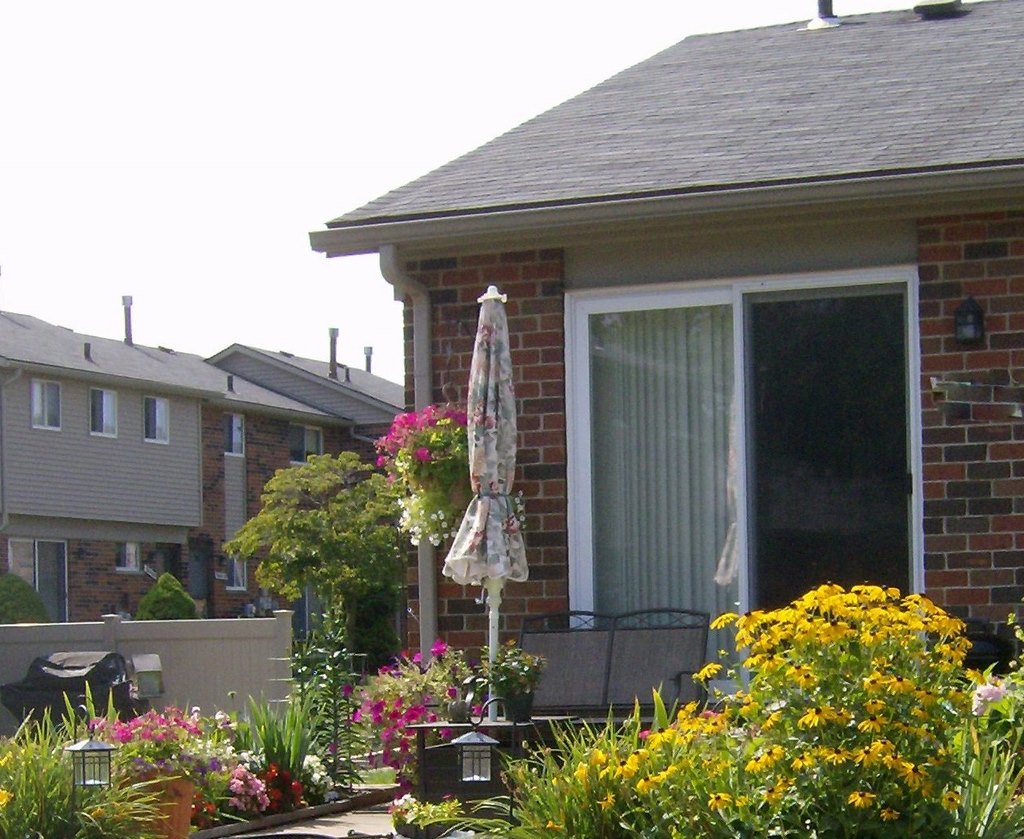 The day light hours of summer are a gift for us even if the polar vortex has made the weather, even now in August, cooler than usual here in Michigan and the mid-west. Many Holliday Park members have chosen to add a patio "sun space" to their unit as a bonus extension of their comfy indoor surrounds.
Patios are the perfect destination for: sun-worshiping (slathered in SPF 70 of course), meditation, pop-up soirees, gardening, (container or other to show off your green thumb or harvest tomatoes, cucumbers etc.) or for contemplating the universe if that is your "thing", grilling (gourmet style or simple fare), measuring the height of hand-planted, stunningly golden sunflowers and so much more.
Depending on your unit style, the placement of your patio can often be viewed from within and accessed and viewed via the door wall or back door and any rear facing windows. This layering of spaces effect adds interest and the kind of ambiance that only a close proximity to fresh air and nature can provide. The bordering nature center offers its own special effects: bird/frog/cricket songs, rustling tree leaves, rushing creek water gurgles and right now the fire flies put on a light show at sundown that is mini-mesmerizing.
Even if all you want to do with these serene and sun-splashed lazy days is zone-out in your favorite chaise, breathe natures non-factory-air and catch the Tiger game or listen to music on your iPhone, smart phone or other device; having the option to create your idea of "paradise" just outside your door is just another fantastic perk of "co-op life"!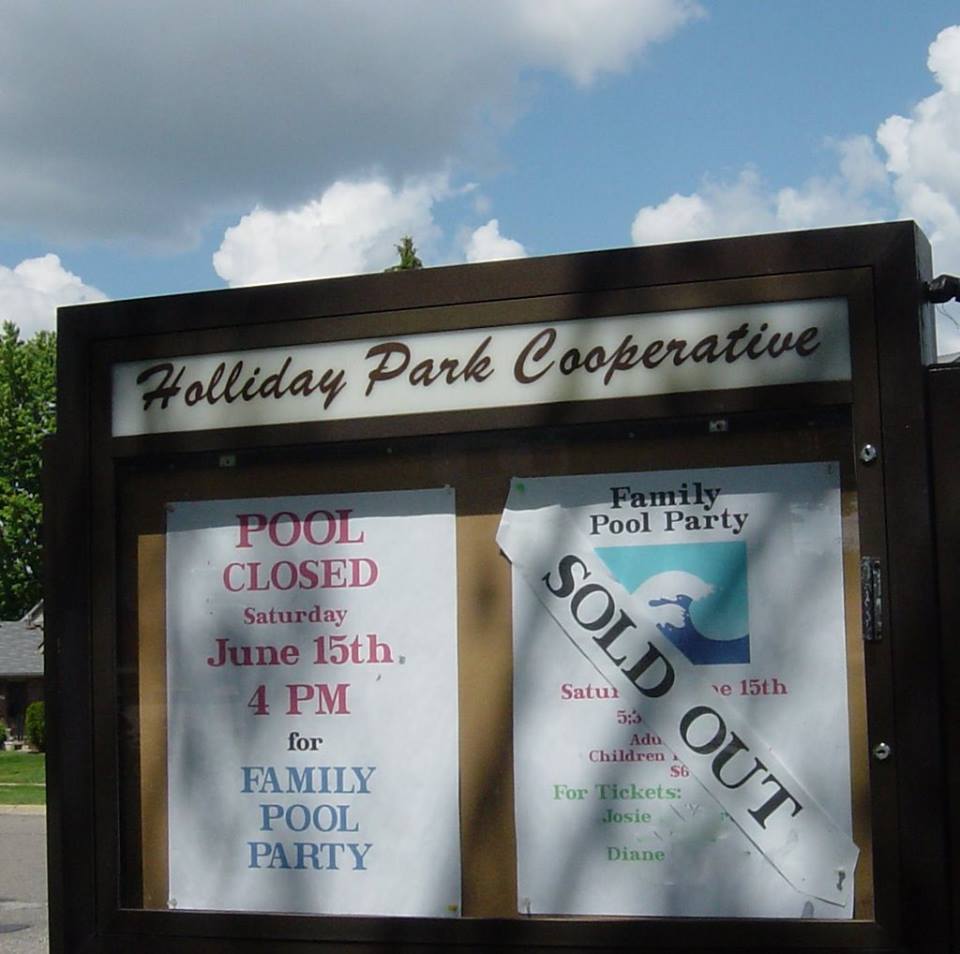 Yes, dear readers, it's "warm & sunny" once again at Holliday Park and for those who know and those who have just joined us or are about to shortly, every kind of activity awaits. Tennis anyone? Our courts are ready for you. Do those lush green golf courses beckon? Our Golfing Club is more than ready to tee up and go clubbing out on the fairways.
Thanks to a great central location, this cooperative is merely a short drive from community theater in Canton, "Free" Outdoor concerts of both classical and pop music, Thursdays and Friday nights in Plymouth, every kind of Farmers Market, huge craft and open-air art fairs in Livonia, Farmington and Ann Arbor, and so much more.
You'll note on the Marque, at the island entrance, that the first Pool Party of the season is a "family event" and the tickets are sold out. More planned activities will follow, so keep watching to stay informed. Remember that the pool is not only huge, it's heated and fabulous. An adult party will be advertised shortly. You can always bring your family, neighbors, extended family, and friends, along with your activities pass, pool noodle, great reads on your e-reading tool, or hey a book with actual pages, sun-shield hats, and comfy beach towels and socialize at poolside, daily into evening. The cool and shady elements for picnicking and pondering cloud shapes await near poolside, as well.
Biking and hiking at Edward Hines parks near by, or wandering the 500 acre William P. Holliday Wildlife and Nature Preserve which borders the cooperative, offer members hours of satisfying communing with nature, up close and touchable.
Whatever you do as you "enjoy the sun's full dazzle" as Walt Whitman wrote, this socially well-oriented life style that is Holliday Park Townhouses Cooperative, is in full summer celebratory mode. Drive by whenever to hear the sounds of laughter, splashes of water, and general merriment that this lovely, mortgage-free, economical and well-maintained community is offering up for your enrichment and happiness.
Tags:
500 acre reserve
,
art fairs
,
classical music
,
community theater
,
craft fairs
,
e-reader
,
e-tools
,
family events
,
family fun
,
family pool party
,
farmers market
,
floating fun
,
free concerts
,
golf club
,
heated pool
,
hiking and biking
,
picnicking place
,
planned fun
,
pool noodles
,
pop music
,
shady spaces
,
socialize poolside
,
summer fun
,
tee up
,
tennis time
,
wildlife reserve
Yesterday, a friend of mine and I finally kept our promise to each other. It had been a long hard winter and we wanted to come out of our hibernation by doing something special. Our first choice was a trip to Detroit to see the newly refurbished Book Cadillac Hotel.
The Book Cadillac Hotel has gone through a complete renovation, after years of decline and reopened to rave reviews; including praise for a particular restaurant in the hotel, ROAST, which is operated by Michael Symon. For those who are not Food Network addicts like us, he is the newest of the Iron Chefs. So we decided to make a reservation at his place for lunch.
Because we like views instead of speed, we drove into Detroit on Michigan Avenue instead of taking the freeway. Once downtown, we had time to drive around and check out what other changes had taken place. The first thing improvement we saw was the new walkway along the river, and I'm sure we will be back this summer to take it all in. Another attraction which caught our eye was a sleek new wine bar. We had taken a wine appreciation class together a couple of years ago so it was a great find for both of us. This also went on our growing list of places to visit and soon.
When we arrived at the hotel, we were so pleased to see that it had been completely renovated, and is now restored to its former glory, although it is much different than the one we knew in years past. The décor is now very minimal, in shades of brown, ivory and gray with touches of chrome. Beautiful pieces of sculpture are displayed in glassed enclosed niches; with marble floors and plush area rugs to complete the very relaxing, yet sophisticated, atmosphere.
The restaurant is sleek but casual, with dark woods, black leather and chrome. Large windows offer great people watching and a view of the park like boulevard area just outside. The menu offers what I would call gourmet comfort food. We both ordered a spinach salad that was served with a perfect fried egg on top, sprinkled with bits of crisp bacon and a wonderful sweet and sour dressing. Then we split a desert of flour-less chocolate cake that was so delicious, it is impossible to describe.
This trip and the lunch was a wonderful beginning to a summer full of fun. Because of the close proximity that our cooperative has to Detroit, Ann Arbor and Windsor just over the Ambassador Bridge, we have an abundance of diverse cultural and ethnic activities to choose from, and Holliday Park offers many day trips to a number of these destinations, as well. I'm anticipating many enjoyable times over this summer as the "Lunch Bunch" assembles for a summer of discovery and re-discovery.
On my short list is a trip to that new wine bar in Detroit, a lunch at an Irish Pub in Corktown (an area of Detroit founded by the Irish), a visit to the University of Michigan Botanical Gardens in Ann Arbor, along with trip to several of the many Art Festivals held in surrounding communities such as Art in the Park, in July, in picturesque Plymouth, and of course, the renowned Ann Arbor Street Fair later that month. Many free concerts will be held at the Westland Library, in Plymouth, at Greenmeade, close by in Livonia, and the list goes on.
So here's to more days shared with Holliday Park residents and friends, as we attend the art fairs, concerts in the park, museums and ethnic festivals offered over the summer in southeastern Michigan. Why not join us? You can pick out a unit style and before you know it, you'll be enjoying all the advantages, both economic and social, of cooperative living.
Tags:
Ambassador Bridge
,
Ann Arbor
,
art in the park
,
artists
,
Book Cadillac hotel
,
concerts
,
Cork Town
,
cuisine
,
cultural activities
,
decor
,
Detroit
,
dining out
,
downtown Detroit
,
ethnic festivals
,
free concert
,
friendship
,
fun
,
gardens
,
great times
,
Greek Town
,
Holliday Parks close proximity to Detroit
,
hotel
,
Irish Pub
,
iron chef
,
marble floors
,
minimal
,
minimal decor
,
museums
,
new wine bar in Detroit
,
park
,
park view
,
plays
,
restaurants
,
river walkway
,
Roast Restaurant
,
sculpture
,
sophisticated decor
,
summer fun
,
trips to the city
,
Windsor
,
wine
,
wine bar
I now live in Florida with my husband and two young babies. Recently, I visited my mother in her Coventry in Holliday Park. It was the dead of January 2009's winter! (For this, I came from Florida's balmy 70's and 80's!….well, there was a family birthday in Michigan.) My 18-month old says a few words; some of her most deeply felt ones are "Meesheegan….code(cold)!!" We set up a pack-and-play in each bedroom, and we were nice and cozy for the four days we stayed in the frigid-weather zone.
Coming back made me recall moving in as a young, young 11-year-old, dependent on a security teddy bear. Once, soon after moving to Holliday Park, I went on a weekend trip with my mother.When we reached our destination, I found my teddy bear missing. All we could discern is that it had been dropped on the sidewalk on our way to the car, before leaving. We did not know many people in Holliday Park, but we called a Board Member who did a lot of work around the cooperative. He was nice enough to abandon his "less important" work to find my teddy bear, still lying outside abandoned on the sidewalk. This placating gesture and my mother's bribery (allowing me to have sleepovers whenever I wanted to) helped me to adjust to moving away from the neighborhood of my childhood. My single mother saw the move as a way to get ahead financially, but I had stubbornly resisted her life wisdom.
Another perk, as my mother pointed out, was the swimming pool where I could hang out with my friends in the summer. This, and the persistent, kind acceptance of the community helped me overcome my little "grump" about leaving my geographic circle of friends.
Eventually, I was babysitting regularly for two neighbors at Holliday Park. Being an employed teenager enabled me to buy gas and meet my friends on weekends. This occurred when I was old enough to take the car at night. My Mom was comfortable with my babysitting for people she knew right in the neighborhood at Holliday Park. She may not have been so contented with my taking the car out at night.
In short, I want to say that Holliday Park ended up being a great place to spend my teen years, especially when my friends came around. I know my Mom always felt safe where so many nice people live on what has become her circular mile of friends.
Now, as I raise my own children and think of my Mom, I am grateful that she lives in a community surrounded by friends where she is involved socially and can call on friends easily and often. I know that Holliday Park was a wholesome environment for me (although I was not looking for "wholesome" at the time). Now, I am reassured that my Mom, as she grows older, is in this positive environment, with lots of benefits for a person living alone. And, yes, even teenagers (and children) can be happy at Holliday Park, where relationships with teddy bears are valued and cared for!
Tags:
benefits
,
cared for
,
circle of friends
,
comfortable relationships
,
community
,
cozy home
,
environment
,
family birthday
,
family gathering
,
financial
,
financial value
,
friends
,
friends hanging out
,
great relationships
,
hanging out
,
home with benefits
,
mom
,
mother
,
mother's home
,
move
,
moving
,
neighborhood
,
neighbors
,
people. nice people
,
perks
,
positive environment
,
relationships
,
security
,
sense of community
,
social
,
socially responsible
,
summer
,
summer fun
,
teddy bear
,
teenage
,
teenage babysitter
,
teenage years
,
trip
,
valued
,
valued teddy bear
,
weekend fun
,
weekend trip
,
wholesome environment