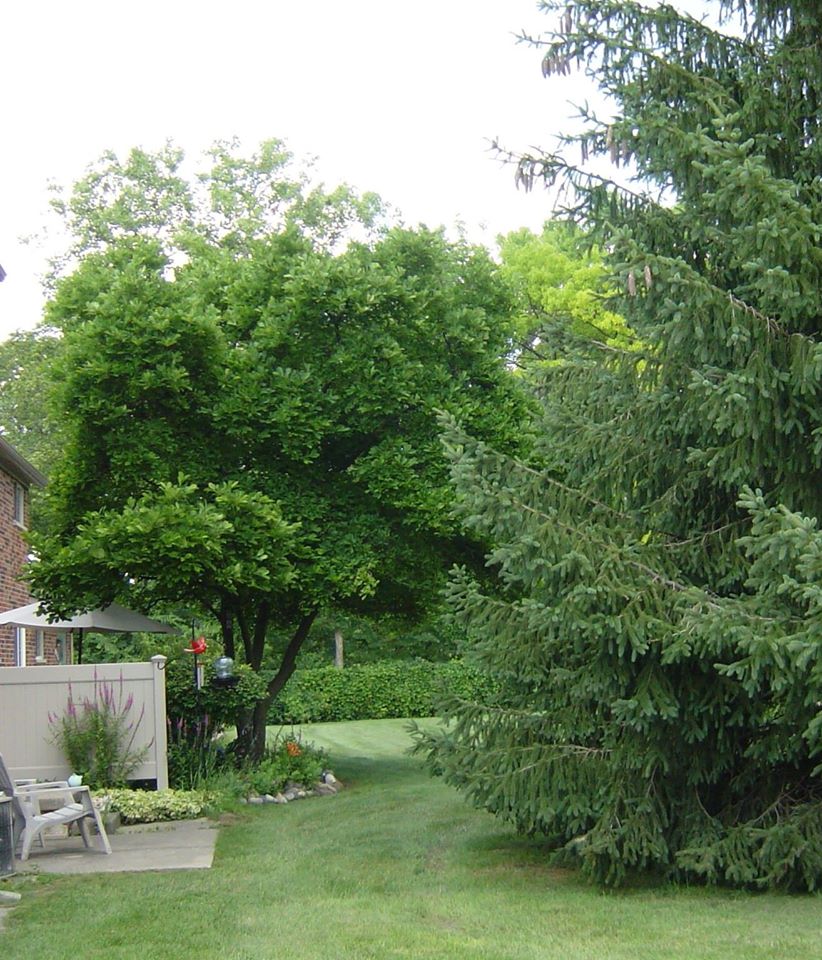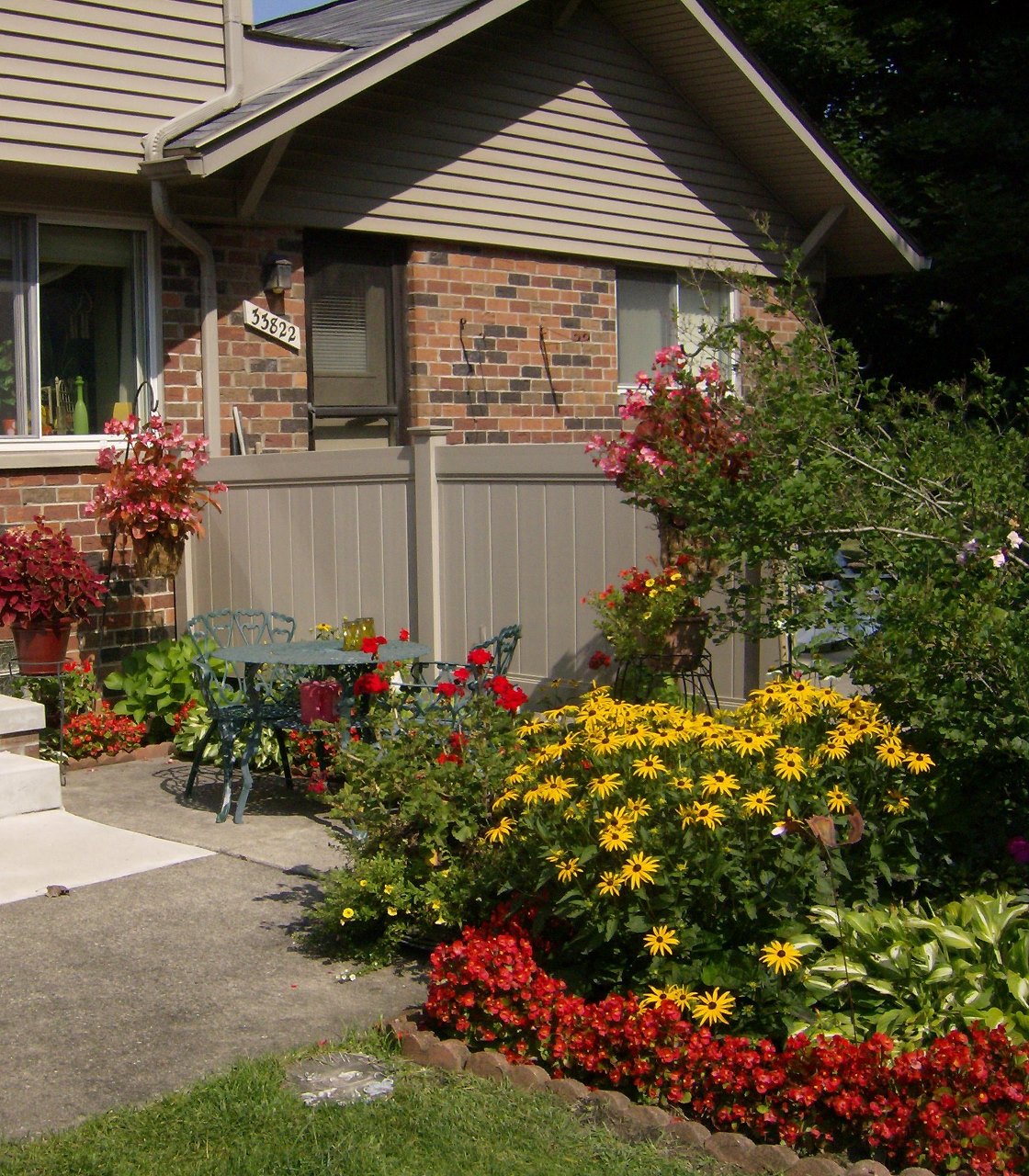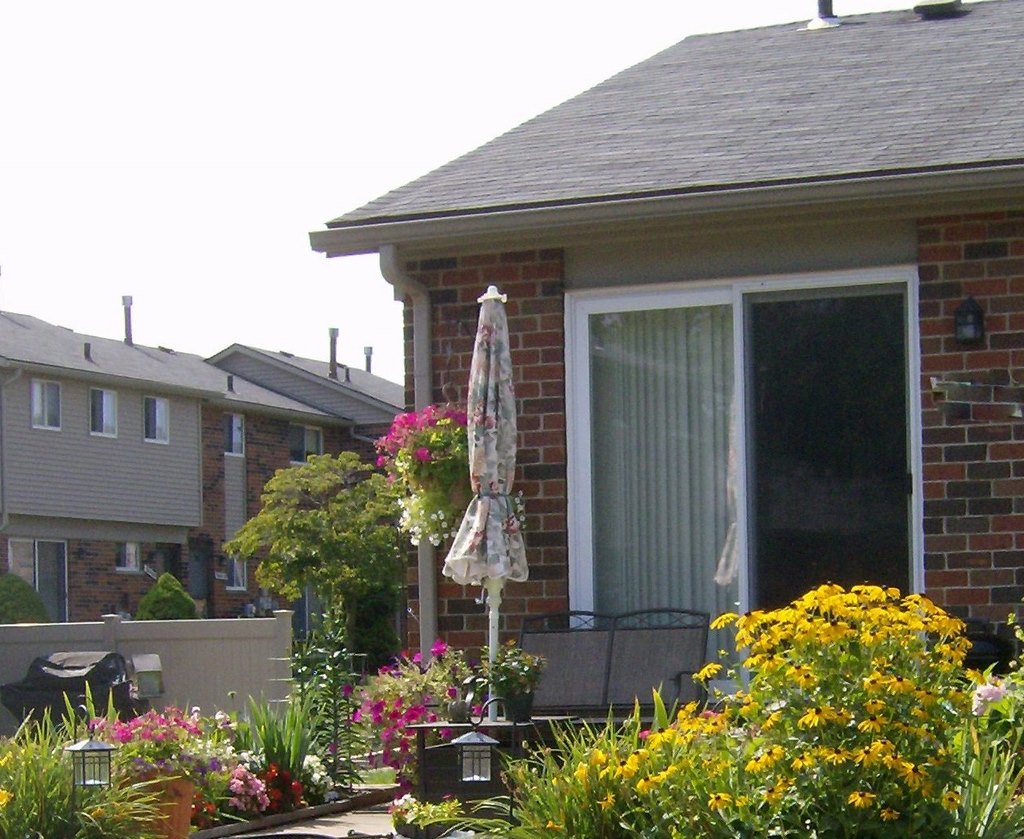 The day light hours of summer are a gift for us even if the polar vortex has made the weather, even now in August, cooler than usual here in Michigan and the mid-west. Many Holliday Park members have chosen to add a patio "sun space" to their unit as a bonus extension of their comfy indoor surrounds.
Patios are the perfect destination for: sun-worshiping (slathered in SPF 70 of course), meditation, pop-up soirees, gardening, (container or other to show off your green thumb or harvest tomatoes, cucumbers etc.) or for contemplating the universe if that is your "thing", grilling (gourmet style or simple fare), measuring the height of hand-planted, stunningly golden sunflowers and so much more.
Depending on your unit style, the placement of your patio can often be viewed from within and accessed and viewed via the door wall or back door and any rear facing windows. This layering of spaces effect adds interest and the kind of ambiance that only a close proximity to fresh air and nature can provide. The bordering nature center offers its own special effects: bird/frog/cricket songs, rustling tree leaves, rushing creek water gurgles and right now the fire flies put on a light show at sundown that is mini-mesmerizing.
Even if all you want to do with these serene and sun-splashed lazy days is zone-out in your favorite chaise, breathe natures non-factory-air and catch the Tiger game or listen to music on your iPhone, smart phone or other device; having the option to create your idea of "paradise" just outside your door is just another fantastic perk of "co-op life"!
Ever notice that the sun starts streaming into your windows at a very odd angle, during those long days when a certain solstice is about to take hold and earth's axis is tilted to receive rays directly in the Northern Hemisphere? Mornings may have a brief tinge of coolness and a touch of dew, if you get up with the robins, to drink your coffee and peruse an agenda, so full it "reads heavy" on the page.
By the time you've accomplished one or two of the "have-two's" from your volunteer work, whether it's Grounds Committee related, or an article with a dead-line that must be sent in to the Status Quo Editor, or it's your turn to gather the briquettes and clean the grill for tonight's Major Munch Potluck Supper in your Parking Lot; it's nearly noon, and the temperature is rising. You can feel the hot air brush against your cheek, as you water those thirsty roses, and run next door to leave the soaker hose on your vacationing neighbors lawn for 10 minutes, before the slightly dappled shade disappears indefinitely.
Who has an appetite, when the grill is shining clean, the cole slaw is shredded, the Mexicali Dip is chilling and you're a sweaty, disheveled train-wreck because the mercury's rising in that retro-thermometer and the wind has gone away? That pulsing in your forehead, and that trickle down your neck could be made to disappear by the flipping of a switch. Magically, coolant would be pumped into your space, and your bones could get some chilling and a smile might grace your face. However, that is not a true solution that would last and set you free, you have other healthier options because of where you live, you see?
So you slip into the shower, pull your "always ready to go" bag from the linen closet, grab the appropriate attire, your "oh-so-comfortable walking shoes," and head down the Miracle Mile.  Ok, it's about 1/2 mile walk because you live half-way round the mile distance, to the portal which has become your Utopia. All that is required of you at your destination, is that you know your name and unit number, and provide simple documentation.
Your favorite lounge chair is claimed in that just right spot for catching any renegade breezes, but this day has none. The ground beneath your feet is warm and not quite as welcoming as you would have liked, and yet a certain anticipation begins to make you tingle, and you know, without doubt, what lies beyond.
Down one step, now two, then three and ah, there it is, the sudden, perfect moment, that all encompassing sensation of relief, wondrous waters on parched skin. A few more steps, and you are blissfully submerged in a cocoon of coolness so complete that it actually is life-altering in every good way. Feelings of tension, melt away, and inner peace replaces any inflammation that the day, the agenda, and the weather had created.
A slight adjustment of your noodle from your right hand to under your right arm, across your back and under your left arm, and you're ready to embrace the sense of wellness that accompanies the buoyancy that good noodles create. You begin to feel empowered, refreshed and ready for social interaction, and just in time. Here come "your peeps", those neighbors and friends with whom you'll dine later on when: people watching, catching up, trip planning, laughing, book and play reviewing, recipe swapping, wine- list creating, agenda-add-on's and world problems are all dealt with and dismissed. There is no place for problems in this Olympic size, heated to "amen" temps, swimming pool, that soothes and creates a medium for mediation if you prefer, or socialization which is so freely offered, in this vibrant community.
More plans are made in this wet perfection which some call heated, chlorinated water. The pool is well maintained by an excellent Life Guard Staff, with on-site maintenance back up support, throughout this solstice, assuring you of many opportunities to float and connote.
As good as you feel, 90% submerged and weightless, this beautiful aquamarine looking wonder also affords support for your proactive health regiment. Holliday Park offers members, occupants and their guests, the opportunity to participate in a lively Water Aerobics Class which meets several times a week. For the last two years, the instructor, Liz, has led all attendees through a rigorous cardio-work-out that gets your heart rate kicked up, and your joints, muscles, and everything attached, moving. You may pick your pace, but its hard to move slowly when the music has "a great beat". The water is the perfect"resistance tool" to offer the necessary work out needed with no negative impact on your joints, ankles, and spine that jogging, or even walking can create. Doing Liz's version of: the rocking horse, the washing machine, cross-country skiing, and other amazing exercises which get you to stretch, twist and move those legs, people, for 45 minutes, is a gift that the co-op offers for a small sum. The benefits are of inestimable value for everyone, both genders.
A Pool Pass is $15 for members and $45  when members include their occupants or family members and guests, for the season. The shaded clubhouse patio and picnic area which adjoin the pool, offer other comfy opportunities to: people watch, catch snippets of conversations as they float across the water, throw birthday parties, read the new J.K. Rowling's novel, or perhaps a historic novel about the "First 100 Years of the Supreme Court". Whatever your Kindle, Notebook, paperback or Sudoku Puzzle have to offer, there is no better place, outdoors, to be through Labor Day Weekend,  for this price, the close proximity, and good peeps.
Time to return to your home and get ready for the Major Munch. Where did the day go?  If you thought you'd read or heard all the good stuff about co-op life on Spring Valley and Fountain Blvd., think again. The Good Life Continues at Holliday Park, proudly and mortgage free.