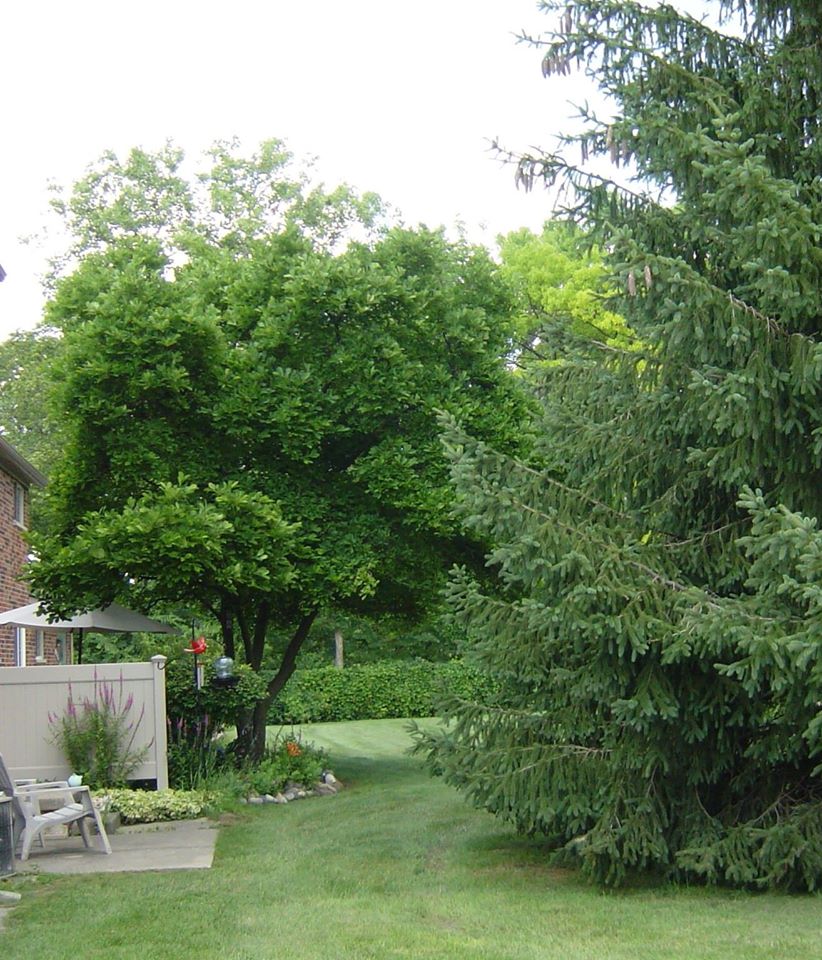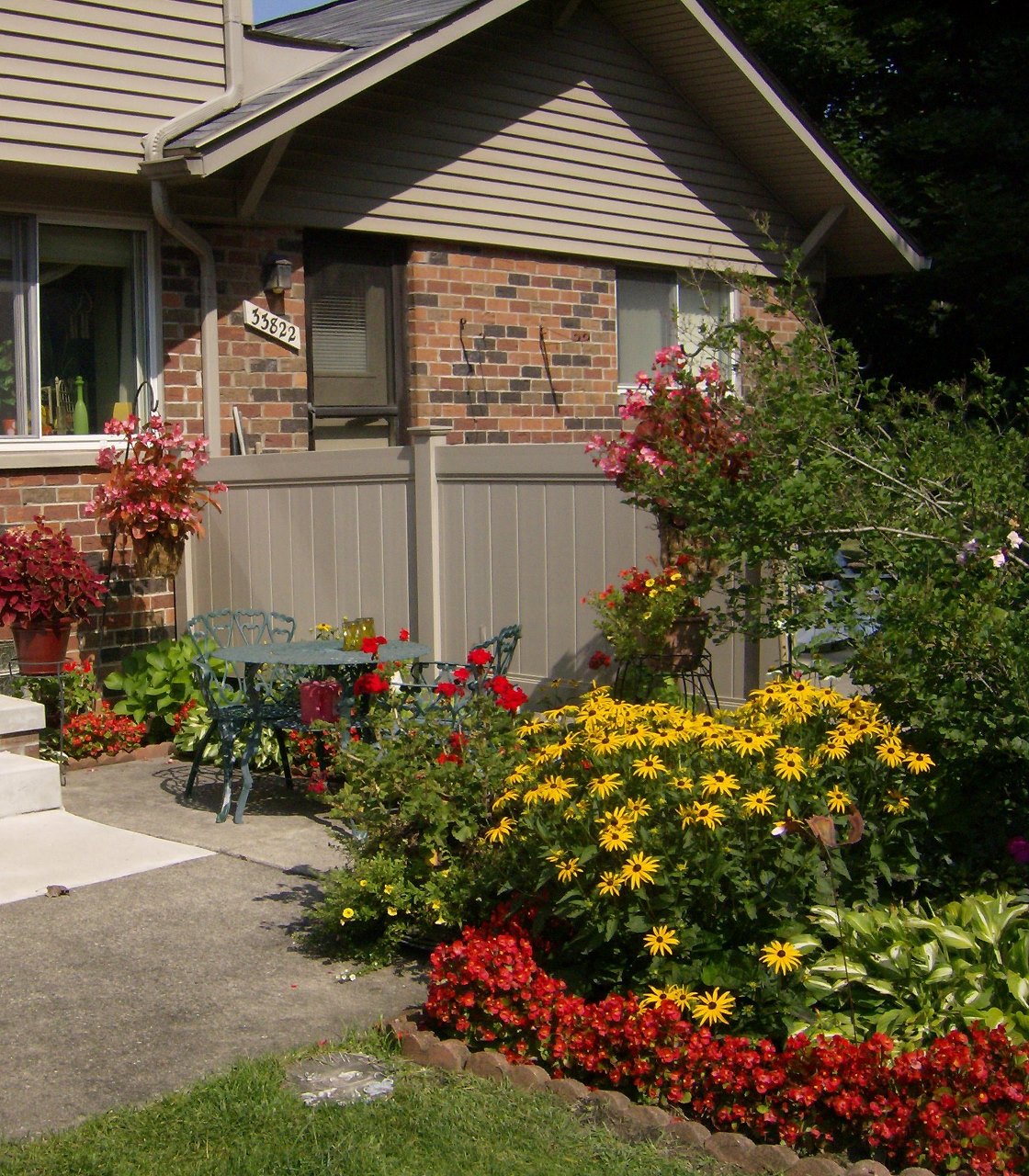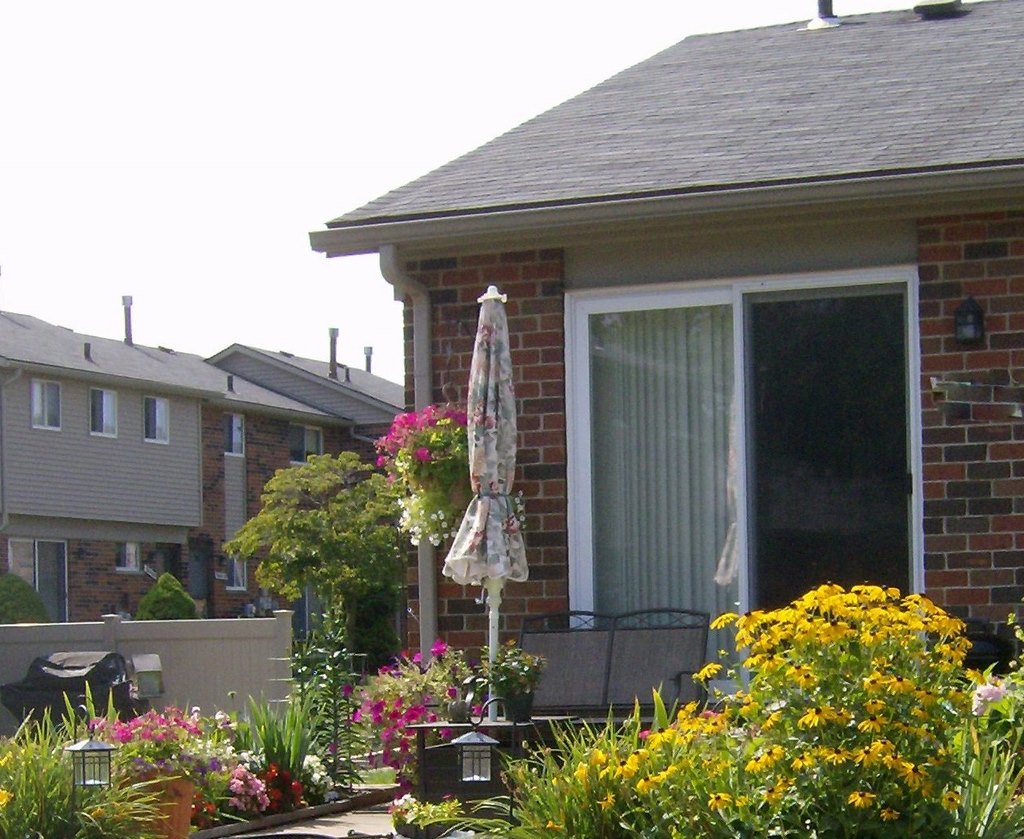 The day light hours of summer are a gift for us even if the polar vortex has made the weather, even now in August, cooler than usual here in Michigan and the mid-west. Many Holliday Park members have chosen to add a patio "sun space" to their unit as a bonus extension of their comfy indoor surrounds.
Patios are the perfect destination for: sun-worshiping (slathered in SPF 70 of course), meditation, pop-up soirees, gardening, (container or other to show off your green thumb or harvest tomatoes, cucumbers etc.) or for contemplating the universe if that is your "thing", grilling (gourmet style or simple fare), measuring the height of hand-planted, stunningly golden sunflowers and so much more.
Depending on your unit style, the placement of your patio can often be viewed from within and accessed and viewed via the door wall or back door and any rear facing windows. This layering of spaces effect adds interest and the kind of ambiance that only a close proximity to fresh air and nature can provide. The bordering nature center offers its own special effects: bird/frog/cricket songs, rustling tree leaves, rushing creek water gurgles and right now the fire flies put on a light show at sundown that is mini-mesmerizing.
Even if all you want to do with these serene and sun-splashed lazy days is zone-out in your favorite chaise, breathe natures non-factory-air and catch the Tiger game or listen to music on your iPhone, smart phone or other device; having the option to create your idea of "paradise" just outside your door is just another fantastic perk of "co-op life"!
For a long time Holliday Park has had a reputation for having beautiful grounds. This is due to a combination of members taking pride in their units, and the Building and Grounds policies. These policies were developed over time, and address the need for guidelines that work for everyone in the community.
We do not have the "yards" that home owners do, and we are very close to our neighbors; therefore, as in all of society, rules to maintain order are needed. No one wants to look at someone else's mess. These policies in no way hamper the member from being a gardener or from expressing themselves in their landscape. In fact, you don't even have to have any flowers or shrubs if that is what you choose. But, if you want to have flowers, shrubs, and/or vegetables, the policies explain where you can plant them and how you must maintain them.
These policies are very much like the policies I have seen for the subdivisions that have been built in the last 10-15 years, as well as condo communities. For instance, if you want to have vegetables, they must be planted in the back of your unit. Shrubs must be kept to no more than 5 feet in height, if they are for privacy around your patio, or 1 foot from the rain gutter if they are in the front of your unit. Flowers beds can be planted around your patio, around a tree if you have one, and across the front of your unit, but they must meet the measurements set by the established policies.
You may have decorations in your landscaping, but they may not be over 2 feet in height, if they are in the front of your unit. Birdbaths must be placed in the rear, and bird feeders must be 5 feet high and overhang your patio so that spilled seed can be swept up.
There are also policies regarding keeping things neat and tidy. Garden hoses must be rolled up on a holder when not in use, and gardening tools must be kept in the back of your unit. Patios may not be used for storage, only patio furniture, barbecues, and potted plants are permitted.
If this sounds like a lot, it really isn't and it makes for a very neat, beautiful, creative place to live. I love to see all the color and texture that our members put into their flower beds, hanging baskets, and patio pots. Every summer my salads come alive with my neighbor's wonderful "home grown" tomatoes and green peppers. Some members have expressed to me that having the grass cut and edged by maintenance has made them enjoy the gardening they do, even more.
A gardening contest is often planned for the summer seasons, and many members get  involved. Six judges are asked to assist with selecting a winner for the months of June, July and August. Nothing professional is required or wanted, so the prospective winner may even be a unit where a grandchild has planted some seeds that produced beautiful, colorful flowers. Pictures of the winning gardens are placed on the HP website. Please look for them, or if you are in our neighborhood, come by and see all our beautiful grounds.
Tags:
beautiful gardens
,
Buildings and Grounds policies
,
color
,
colorful landscapes
,
community life
,
cooperative gardening guidelines
,
creative gardening
,
established policies
,
flower gardens
,
gardening contest
,
gardens
,
guidelines
,
hanging plants
,
landscapes
,
maintain order
,
neat and tidy landscape policies
,
order
,
outdoor decor
,
patio
,
patio furniture
,
policies
,
potted plants
,
pride
,
rules
,
rules to maintain order
,
self expression
,
shrubs
,
simple gardening
,
simply green
,
trees
,
vegetable gardens