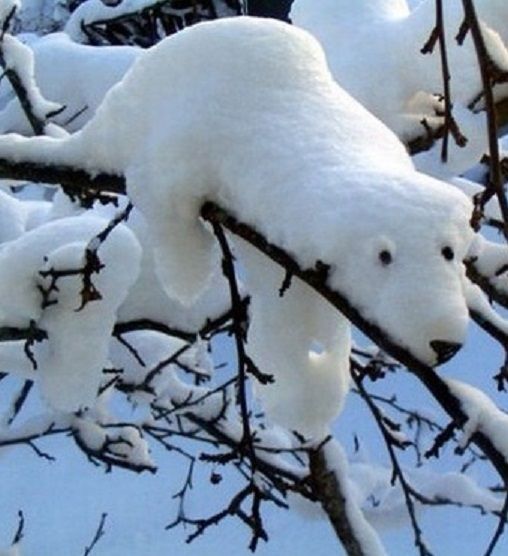 It is the time of the "ice moon" when numbed and frozen soil and biting cold, with wind chill numbers which are often prefaced by a minus sign!
Good News: at Holliday Park members are not shivering and quivering about high heating costs in this, the coldest winter in over 30 years. We're (hides grin) snug and comfortable because our co-operative practices the art of "Frugality" by making prudent economical decisions which keep energy costs as low as possible for the membership.
For example: rather than following traditional sourcing and having constantly higher gas bills using the standard methods provided by Consumers Energy consumption, the Board purchases bulk natural gas after analyzing and comparing the co-operatives usage and the costs for bulk natural gas which a number of reputable suppliers offer. Prices are calculated and then locked in at a specific fixed rate annually. The savings have been extraordinary. These costs are included in the moderate monthly carrying charges which have been increased only 3 times in the 35-plus year history of this fiscally sound, mortgage free community.
**The extreme cold that Michiganders' are experiencing will not drive costs higher for our members due to the savvy and calculated expenditure of stridently budgeted Energy Funding with this bulk gas- fixed cost-program.
For HP members February is often a great month to curl up and hibernate a bit like bears, staying warm and cozy, comforted by the knowledge that your co-op energy resource dollars are being stretched thanks to the very frugal corporate mind-set which is working just for you!
** Please note that a monthly carrying-charge is less than $300 (which includes heat and gas charges) at this middle-income cooperative. No government subsidy here—-but more affordable (and nicer!) than any place with a subsidy.

(as posted at our Facebook Page https://www.facebook.com/HollidayPark )
At this time of the year here at our cooperative, members take time out from their busy lives to CELEBRATE those within the community who have made the choice year after year to step-up and VOLUNTEER. This community was founded on the simple principle that becoming a member is not just the purchase of a share in a corporation in order to obtain a place to live. Being a member in a cooperative includes an obligation to be involved in this place and its activities for the greater good of all.
At Holliday Park members are motivated to be active in this self-governing community, in its service activities and social organizations. This philosophy of "being involved"keeps the cost of living here very low, and insures that the units and grounds are well maintained, while an elected seven member Board of Directors (volunteers) manage the finances with insight and frugality.
Committee work, whether it's assisting with the processing of applications from prospective members, driving with the Night Patrol to keep a vigilant watch over the property, walking for the Grounds Committee to make sure that the beauty of the park-like outdoor areas are being maintained, welcoming new members, assisting in the selection of big ticket items such as refrigerators, stoves and vinyl siding, or chairing an event at which members gather to enjoy all the amenities that are available from the huge swimming pool to the manicured green picnic areas and tennis courts, is the essential element in cutting overhead, and making progress at the cooperative.
Whether time and skills are given in a high-profile way like serving on the Board or Chairing a committee; or more quietly, by:
answering the calls of perspective members at almost any hour
spending time every Saturday greeting applicants and giving them the gift of information about co-op life
copying, collating and stapling the many pages of the Status Quo official news letter, then walking door to door to deliver it
dragging copious amounts of fruit, muffins and coffee beans into the clubhouse early on Monday mornings so that others might enjoy a weekly gathering to build friendships and share thoughts and interests
planning economical trips for large groups to local sights of interest and history, or to far away exotic locales
getting the word out about Holliday Park by volunteering to collect admission fees and dispensing paid participant certificates and information sheets to members who sign up for planned events that involve the Westland Community…like the Yard Sale
Being a Lot Representative to keep records for everyone who parks in the open parking spaces and assigned covered parking , to ensure that no untagged vehicles park illegally on the property
Doing this work without pay saves the community many thousands of dollars. In fact Holliday Park is mortgage free now, thanks to frugality, wisdom, planning and extraordinary VOLUNTEERISM on the PART of the MEMBERS.
All of these acts of generosity of time, skills and caring, add up to a good life here. Therefore, a dinner is given in honor of these good people. Invitations are sent out by the Board of Directors, and those who Volunteer gather together to dine, to share experiences, to simply be together and enjoy the success of their endeavors, knowing that their sacrifices are appreciated.
In an effort, here on the blog, to celebrate each and everyone of our HP VOLUNTEERS , we offer this definition of these extraordinary people:

V is for the Very special people that you are
O is for the Overwhelming support & compassion you offer to your community
L is for the Little things you do that make such a difference in someone's life
U is for the Unspoken words that sometimes mean just as much
N is for the Need you fill when others aren't able
T is for the Time you give of yourselves on top of your own busy schedules
E is for the Emotional support you continually give to family, friends, neighbors and this community
E is also for the Endless energy you all seem to possess
R is for the Responsibility you have taken on & never once complained
S is for the Smiles you bring to everyone you reach out to, by just being you…
Valuable is the hard work you do
Outstanding is how you always come through
Loyal, sincere and full of good cheer
Untiring in your efforts throughout the year
Notable are the contributions you make
Trustworthy in every project you take
Eager to reach your every goal
Effective in the way you fulfill your role
Ready with a smile like a shining star
Special and appreciated —- that's what you are
It is true that co-op housing is a great alternative to the uncertainty of rental spaces or paying an expensive mortgage. As a member of our cooperative, each of us has a democratic voice in controlling the cost and operation of the Co-op Community and a duty to assist in keeping costs down by doing some of the work ourselves. There are many perks to volunteering and among them are the fiscal reality that you have more bankable disposable income when you choose a well run cooperative as your home. Through volunteering you assure that this excellent life style will continue to thrive, and you get to truly know your neighbors as you work together to maintain the well being of your community.
To every HOLLIDAY PARK VOLUNTEER a grateful and sincere THANK YOU! You are wise because you intuitively know that"to be truly happy we each must seek and find a way to serve!"
Tags:
bankable disposable income grows
,
be part of a motivated self-governing community
,
being effective and responsible
,
being involved to insure success
,
celebrate
,
celebrate the volunuteers
,
duty
,
enjoy the success of your endeavors
,
excellent alternative to renting
,
finances
,
financial frugality
,
frugality
,
giving a gift
,
giving a gift of information
,
housing choices
,
insight
,
keeping carrying charges low
,
maintaining units and grounds
,
making a contribution to your community
,
perks to volunteering
,
renting alternative
,
saving thousands of dollars
,
service activities
,
social organizations
,
step up and volunteer
,
success
Each year, during the first week in May, members of Holliday Park hold an election to choose candidates who will fill the seven seats which constitute the Board of Directors of the Holliday Park Towne Houses Cooperative. Board Members are voted in by the membership and serve for either a 1 or 2-year period before coming up for re-election. The choices that are made with each vote are vital to the well being of this co-op, because those who are selected make the difficult and necessary decisions upon which the foundation of fiscal solvency and structural integrity of this corporation are based.
The following is a list compiled by your current Board of Directors. It consists of suggested criteria for choosing and voting for Candidates in the Cooperative Board Election.
a. be teachable (cannot already claim to "know everything").
b. able to do active listening (that is, can repeat accurately what is heard).
c. understands how to work on a team.
d. willing to sacrifice special/personal interests for the good of the cooperative. (involves unselfish, overall view of what is best for the whole).
e. respectful of fellow Board Members/opinions, with full recognition that disagreement may exist. (has ordinary good, polite manners).
f. regards money as belonging to the whole cooperative; thus, considers its use with prudence, care, accountability and frugality.
g. positively promotes the cooperative and its policies in order to maintain the marketability and smooth functioning of the cooperative.
h. willing to learn policies and procedures.
i. respectful of policies and willing to make enlightened changes, only after studying reasons for established policies.
j. realizes one has no power to act alone in regard to policy or financial decisions; thus, willing to confer and to comply with the vote of the majority of the Board.
k. realizes one cannot make what might be called "personal campaign promises." Changes, policy revisions, purchases, projects are all subject to a 7-member vote.
l. willing to do a share of the work required by virtue of belonging to the Board.
m. willing to speak out on issues common to the whole Board or the whole cooperative.
n. does not get lost in nonessential, time-consuming distractions that appeal to a minority number of members.
o. has an understanding of the structure and rationale for a cooperative, as opposed to other multiple-housing complexes and private homes.
p. studies past legal opinions to gain insight into established policies and procedures.
q. willing to attend Board meetings.
The above may not be a comprehensive list. It is, however, relevant to our present and more recent Boards. In past years, this community has been very blessed to have had exemplary people elected to these positions. They are the heart-beat of our community, and we are grateful for their years of selfless giving.
Come join us in becoming a member of Holliday Park, and you can participate in the election of your Board of Directors.
Tags:
accountability
,
accountable
,
Board
,
candidate criteria
,
candidate for the Board of Directors
,
comply
,
confer
,
corporation
,
criteria
,
fiscal solvency
,
focus
,
focus on greater good
,
frugality
,
good for all
,
good listener
,
knowledge of history
,
knowledge of policies and procedures
,
market
,
members vote
,
procedures
,
promotes cooperative interests
,
qualities of a Board Candidate
,
respect
,
seven board seats
,
shared work
,
structural integrity
,
student of legal opinions in policies
,
teachable
,
team work
,
voted
,
voted into office
,
voting is vital
,
voting priviledge