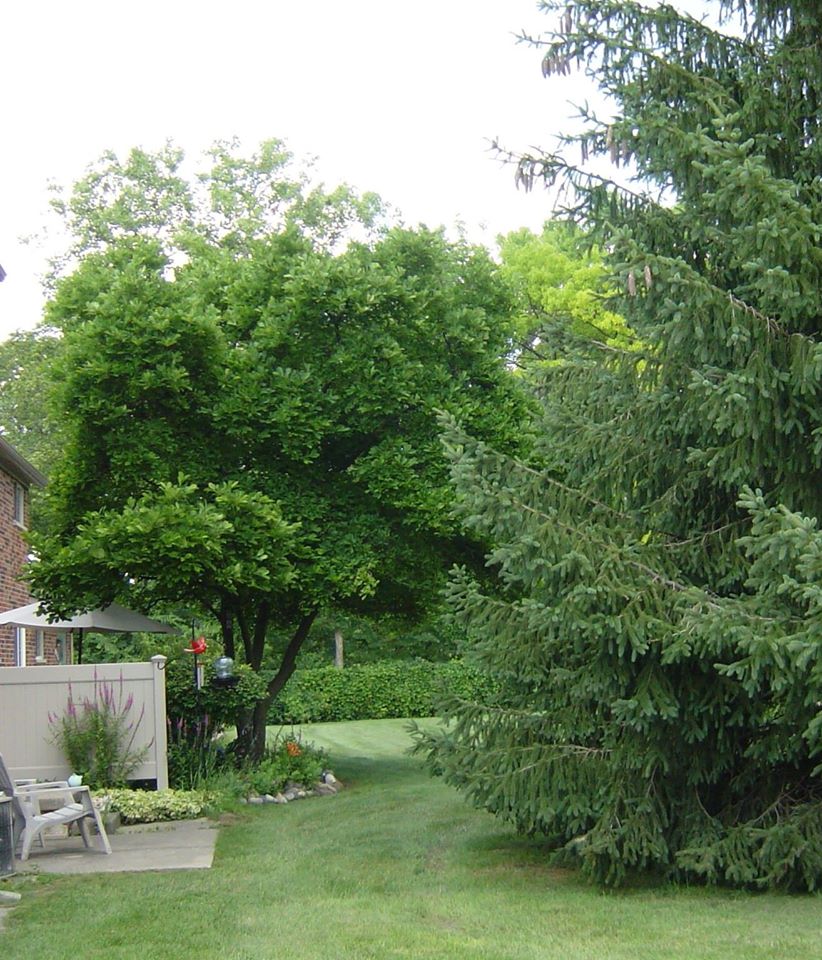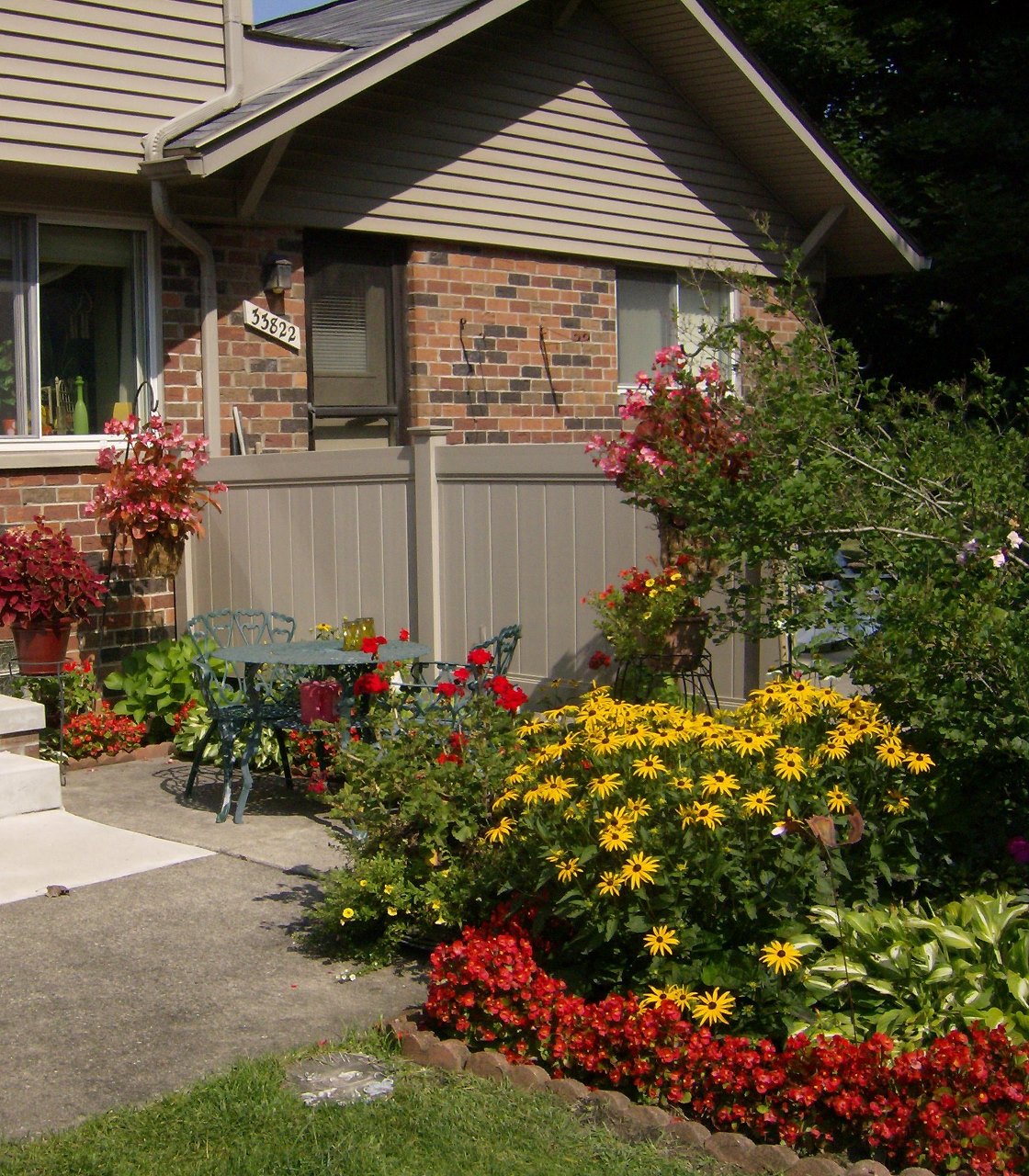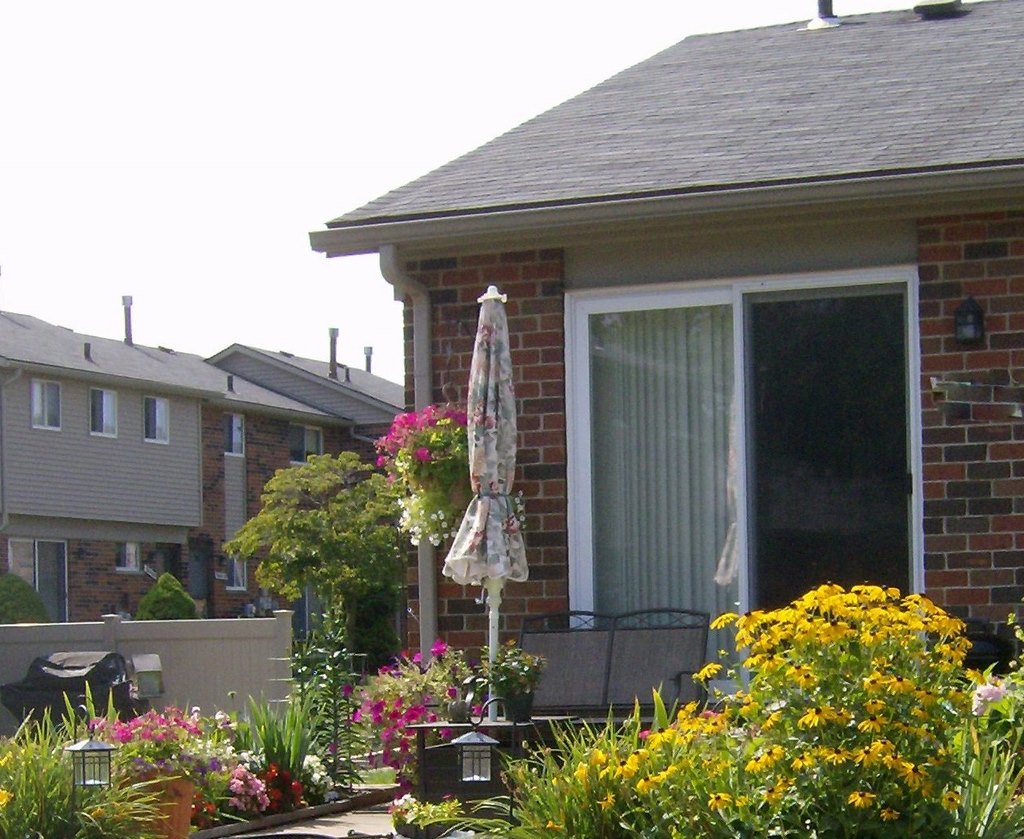 The day light hours of summer are a gift for us even if the polar vortex has made the weather, even now in August, cooler than usual here in Michigan and the mid-west. Many Holliday Park members have chosen to add a patio "sun space" to their unit as a bonus extension of their comfy indoor surrounds.
Patios are the perfect destination for: sun-worshiping (slathered in SPF 70 of course), meditation, pop-up soirees, gardening, (container or other to show off your green thumb or harvest tomatoes, cucumbers etc.) or for contemplating the universe if that is your "thing", grilling (gourmet style or simple fare), measuring the height of hand-planted, stunningly golden sunflowers and so much more.
Depending on your unit style, the placement of your patio can often be viewed from within and accessed and viewed via the door wall or back door and any rear facing windows. This layering of spaces effect adds interest and the kind of ambiance that only a close proximity to fresh air and nature can provide. The bordering nature center offers its own special effects: bird/frog/cricket songs, rustling tree leaves, rushing creek water gurgles and right now the fire flies put on a light show at sundown that is mini-mesmerizing.
Even if all you want to do with these serene and sun-splashed lazy days is zone-out in your favorite chaise, breathe natures non-factory-air and catch the Tiger game or listen to music on your iPhone, smart phone or other device; having the option to create your idea of "paradise" just outside your door is just another fantastic perk of "co-op life"!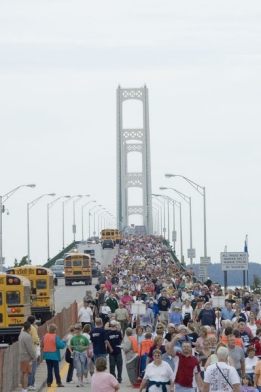 When you share the "joy" of moments that are special, you build a bridge of kinship with other sharers that is the connection to friendship and understanding, like no other.
Perhaps that is one of the reasons that the Holliday Park Travel Club offers its members a chance to take a deluxe motorcoach trip for 2 days & one night at summer's end, to visit Sault Ste. Marie and St. Ignace, MI, for Casino fun, sightseeing, shopping (specially in downtown Mackinaw City) and a great nights sleep at the Kewadin Casino Hotel in the fabulous fresh air.
Not only is this tour a scenic, economical and tour-guide directed adventure; on the second day, September 2, at 7:00 a.m., the 56th Mackinac BRIDGE WALK gets underway. You don't have to participate in the walk, of course. You can just people watch, mingle and take photos of the vistas and the amazing architecture of this beautiful man-made structure.
This is a chance to meet new people from destinations you've only read about or imagined. It's an opportunity to join with other HP members, family, friends and others to engage in an experience that celebrates the ingenuity of the human spirit.
Participants share their still unwritten stories as they take this walk. Some will come in commemoration of having survived life threatening illness, others are there for a "bucket list" scratch-off, or just because they love the state of Michigan and the connection of the two peninsulas.
Some students of human nature say that in visiting a bridge one gets the best perspective not only of the earth they stand on, but of which bridge to cross and which to burn.
Taking this Mackinac Bridge Walk Tour is just another fabulous experience offered by this cooperative to it's members and the significant people in their lives for enrichment, fun, laughter, happiness and yes, those memory-making moments that give life lasting richness and profound meaning.
Be there members, and if you haven't gotten your Holliday Park Cooperative membership yet, stop by Saturday Greeters and find out about all what you are missing (11 -1:00 p.m.) most weekends.